Article
Navigating your Cleanroom Options As A Start-Up
January 15, 2021 Dan Dernbach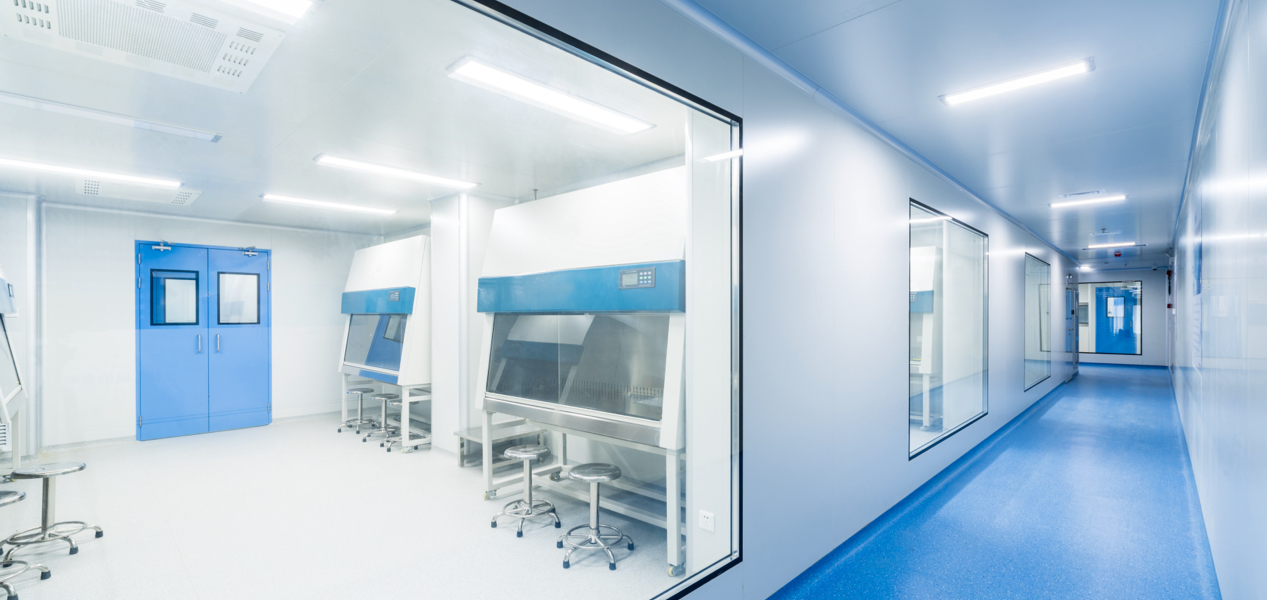 How to decide between a CMO, rental space, or building your own compliant space.
As you start your journey in researching, developing, and piloting your product, you realize the question, "Should I rent or build a cleanroom?" is pivotal. Each start-up is different and has its own unique set of challenges and needs. Therefore, we will be covering the different options available to you and which will best fit production for your start-up.

CMOs vs. Building Your Own Facility

Contract Manufacturing Organizations (CMOs) offer manufacturing capabilities to suit different and specific industry sectors/niches. However, there are quite a few drawbacks when it comes to working with a CMO. While under contract, but not in full control of the cleanroom, you have to keep in mind scheduling times, intellectual property security, and the need for equipment and materials. All of these aspects can significantly impact your decision.

While having a facility that allows you to conduct your practices is a must, you must share your intellectual property (IP), cleanroom space, or specific activities.

The second option in contrast to CMOs is to build your own cleanroom. Of course, the obvious benefit is the ability to have full control over your entire production and not worry about IP breaches, security, or scheduling times. However, this process of building, maintaining, and qualifying your own cleanroom with cGMP standards is extremely costly and will take a significant amount of time and expertise that most start-ups may not be able to support.
A few things to consider when building:
Creating the Utility Matrix
Designing support systems
Qualification times
Construction and commissioning
Temperature and humidity control
Implementing air filters
Pressurization
Cleaning and environmental monitoring
While both of these standard cleanroom options have benefits and drawbacks, over the years Azzur Group noticed neither method allowed start-ups to focus solely on their science and protect their IP. From this, the Azzur Cleanrooms On Demand™️ (COD) hybrid model was conceptualized and brought to market.

Azzur Cleanrooms on Demand™️
Our facilities include cGMP-compliant cleanroom space, warehousing, and material management. This means you can execute activities without the need for facility ownership or reliance on CMOs.

Unlike with CMOs, renting a cleanroom with Azzur COD allows you to keep any and all intellectual property that is developed in the facility. You also have full control over your space and all activities. With the Azzur Cleanrooms on Demand™️ option, a need for a third party is completely eliminated.

Building a Cleanroom
Pros
Cons

Full control over IP
Ability to make process changes
Built for your specific manufacturing needs
No scheduling issues
Full control over facility space and Quality Control

Costly
The need for maintenance
Facility must be validated by the owner
Length of time for construction and development

Partnering with a CMO
Pros
Cons

The CMO provides all operators for manufacturing activities.
Can meet specific needs and niches
"Hands-off" approach

IP must be shared
Complex tech transfer plans
Space is reserved for a limited time for a finite set of activities.
Lack of flexibility to change process as needed.

Renting an Azzur Cleanroom
Pros

Full control over IP, space, QC, schedule, and activities
Comes fully equipped
Security throughout the facility
Can meet the needs of very specific industries, customizable
No schedules or timeline drawbacks
No maintenance needed
Phase-Appropriate cGMP compliant

As listed above, with Azzur COD you are able to get all the benefits of building your own facility without the timeline setbacks, cGMP compliance technicalities, major costs, or worry of any maintenance. Additionally, since there are no manufacturing schedules and you can make as many batches as you want during your contract. This type of flexibility is crucial for early-phase development. Therefore, Azzur COD was designed specifically to keep you focused on your science, while Azzur focuses on compliance.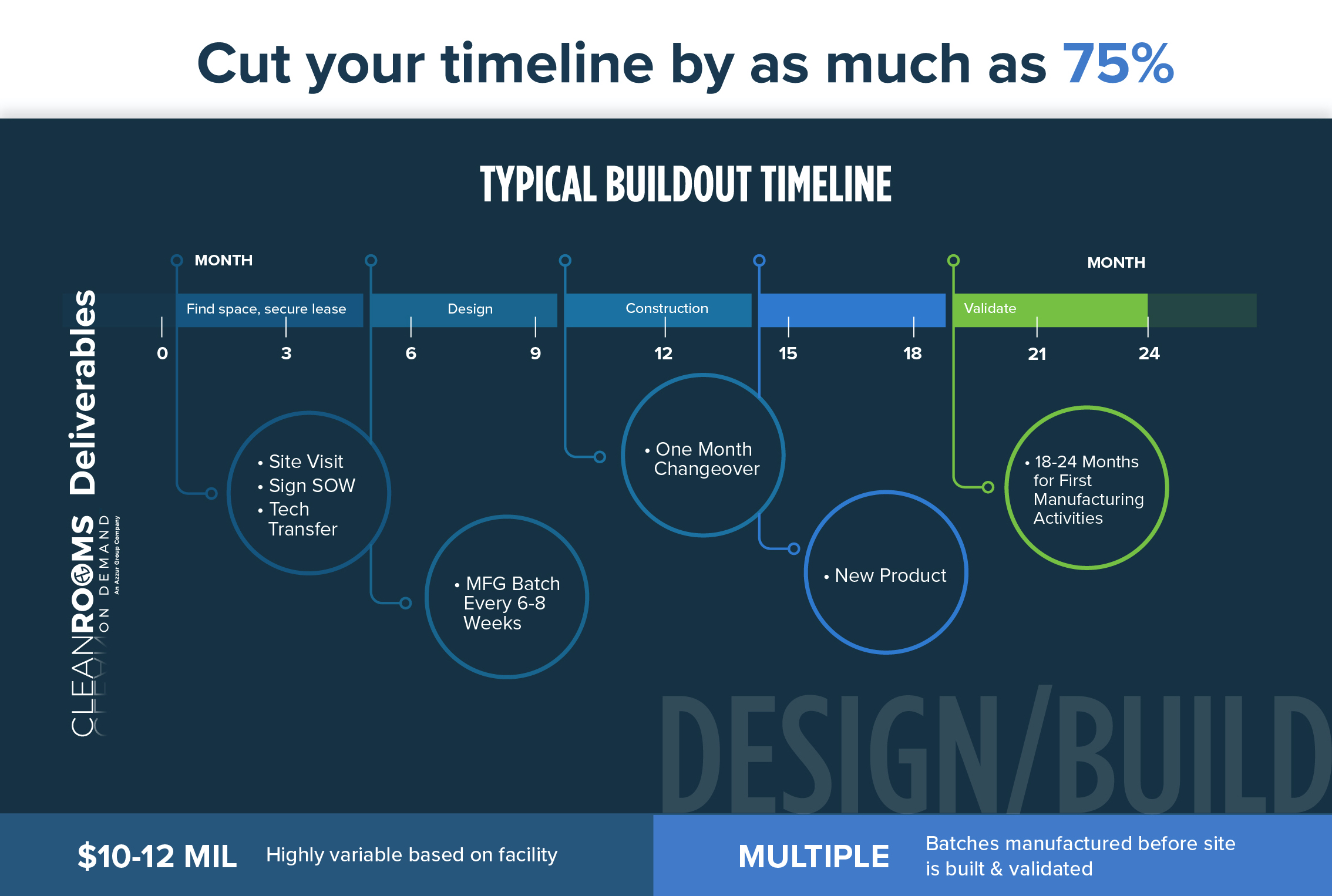 Cut your timeline by as much as 75% and cost by 70-80%
Overall, if you are in the early phases of research and development, then renting a cleanroom will be the best option for you to get your drug, therapy, or device to market quickly and safely. Even if you are ready to build COD can be a bridge to your own facility. Building a cleanroom is a more viable option once your production has matured. See the checklist below to better understand which may work best for you.
Is this the first time you have developed a product?
Does your budget allow for equipment and special features?
Is your manufacturing process locked down?
Do you have a GMP-compliant quality system in place?
Do you have trained personnel?
Do you have thorough knowledge of the regulations needed for your specific production?
Is a cleanroom an immediate need?
Are you familiar with the type of test you will be conducting?
Are only researching and developing one specific product?
If you are at the stage where you are ready to build a cleanroom, Azzur can still help provide you with resources to get you started on your next big journey!
Ready to explore COD's cGMP-compliant cleanrooms? Take a virtual tour, and contact us to get more information!