Article
Azzur Group Wins Kentico's B2B Site of the Year 2021
Katie Kiley Brown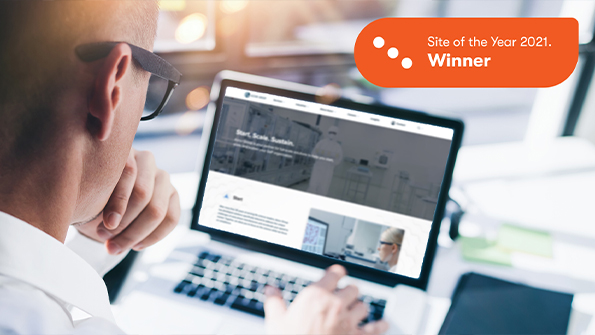 Life science moves fast, and Azzur is committed to being on the cutting edge to serve our clients, which includes providing rich content, 3D tours, and an overall immersive web experience. It's important for us to have a website that not only provides all of the content and immersion necessary to educate our clients, but one that was capable of scaling with us while allowing us to stay organized.
As our company establishes new facilities around the country, we're often faced with the need to scale Azzur.com and its content to reflect those developments. We wanted to make sure that the new website would reflect our growth without becoming over-encumbered by too many pages–or the need for multiple websites. The new website, launched in late 2020, provided us with a strong web foundation to continue building out our online presence by enabling us to overcome such hurdles with relative ease.
Besides relaying vital data to clients while most relevant, we also wanted communication to be smooth and convenient. It was important to make connecting with an Azzurian simple and provide the means to reach both our content and Azzurians whenever needed.
When clients and potential customers, we want them to experience what it's like working with or for Azzur. To that end, immersion was another focal point for us. Giving users an immersive experience through 3D tours of our facilities, like our virtual Azzur Cleanrooms on Demand™, allow us to engage with clients in contemporary ways that aid in the decision-making process. We firmly believe that endowing clients with the right knowledge and insight offers invaluable peace of mind that far exceeds any other mode of marketing we could employ.
Following the redesign, Azzur.com was nominated for Site of the Year 2021 in the B2B category by Kentico Xperience: the technology on which the site was built. The DXP's tools are serving us well, and it's made our job as marketers easier thanks to the backend customization and streamlined content personalization–and that in itself is rewarding. Apart from the look and UX of the new website, end-user satisfaction was weighed for determining the winner, which was one of the biggest achievements we could have hoped for as the site has been an endeavor wholly committed to the education and satisfaction of our clients.