Article
Containing Contamination: The Aseptic Gowning Process
March 15, 2021 Shelley Preslar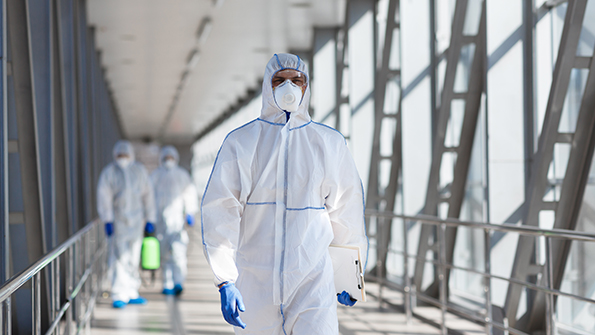 Pop quiz: What is the dirtiest element of your pharmaceutical cleanroom operation?
If you were thinking it must be the floor – good guess, but try again.
The main source of contamination in a controlled area are the people in the room!
A single person can shed up to 10 grams of skin cells each day. While the hard surfaces of the cleanroom are routinely disinfected, the people who make the life-improving, and often lifesaving, products cannot be. Protecting the integrity of a product from the risk of personnel contamination is one of the greatest challenges faced by our industry.
While there are a variety of advanced, technological controls used to monitor the cleanroom itself, the primary methods to prevent potential personnel contamination are proper gowning practices and behaviors. The use of proper attire is highlighted in the Code of Federal Regulations 21CFR Part 211.28(a) and 21CFR Part 600.10(c)(2) and is evaluated by regulators as part of pharmaceutical manufacturing operations.
For those who are industry veterans, the above paragraph may seem like an everyday norm; however, for those of you who are new, your mind may be swirling with images of masks, gloves, and gowns. While gowning materials are pivotal to the cleanroom operation, the practices and behaviors for people who are inside of the cleanroom are just as important. It is critical that all employees maintain good health and hygiene, encompassing all aspects from routine showering and handwashing to informing a supervisor of possible illness. In this day and age, I think we can all agree that the importance of proper personal hygiene has gone from an assumed, acceptable human behavior to a dinner table conversation – six feet apart, of course.
The materials used in an aseptic gowning process can vary between facilities. Some facilities use sterile, one-time-use materials; others choose reusable garments that can be laundered or sterilized which requires validation of the sterilization cycles to assure process consistency and efficiency. While gowning materials may differ between facilities, the overall techniques and standards of proper aseptic gowning processes remain standard across the board. For example, gowning from top-down, wearing sterile non-powdered gloves, and preventing contamination of sterile gowning materials are typical requirements.
The aseptic gowning process is one of the most difficult gowning processes to master and requires practice, practice, and that's right… more practice. Before entering an aseptic area, personnel must be educated on specific requirements, undergo detailed training, practice and then successfully complete a qualification activity. Once the personnel have been successfully qualified, routine monitoring and requalification activities are required in order to maintain the highest level of compliance associated with aseptic practices.
As mentioned above, mastering aseptic gowning requires training and extensive practice. Ideally, all facilities would have a separate space dedicated to aseptic training and qualification. Realistically, that is a sizable investment and not an option for most organizations. Many manufacturing facilities face challenges when training and qualifying employees for aseptic processes alongside routine operations. If an employee were to produce a disqualifying microbial test result during a (re)qualification activity, not only will the environmental integrity of the area need to be evaluated, but the product that is manufactured in the area will also require scrutiny. This can be an incredibly expensive event, not only financially—due to a potential loss of product—but also the time and effort that's required to perform an investigation, additional cleaning, and overall recovery of the area to return to operational status.
The aseptic gowning process is critical to ensure that aseptic products are manufactured with the highest level of environmental control. Proper training, qualification, and requalification activities are vital to maintain compliance and to reduce the potential risk of contamination associated with personnel working in an aseptic environment.
The Parenteral Drug Association (PDA) has been an industry leader for aseptic gowning information and requirements. They are consistently at the forefront of the ever-evolving industry standards. Azzur Training Center (ATC) is a new resource for organizations performing aseptic activities. ATC offers aseptic gowning training, aseptic behavior and process training, and qualification programs tailored specifically to client procedures. They take the risk out of contaminating an operational facility, while qualifying personnel to meet client-specific requirements.
For more information about Azzur Training Center, click here.