Article
Azzur Fore ALS Scores Big for ALS Therapy Development Institute
October 19, 2020 Katie Kiley Brown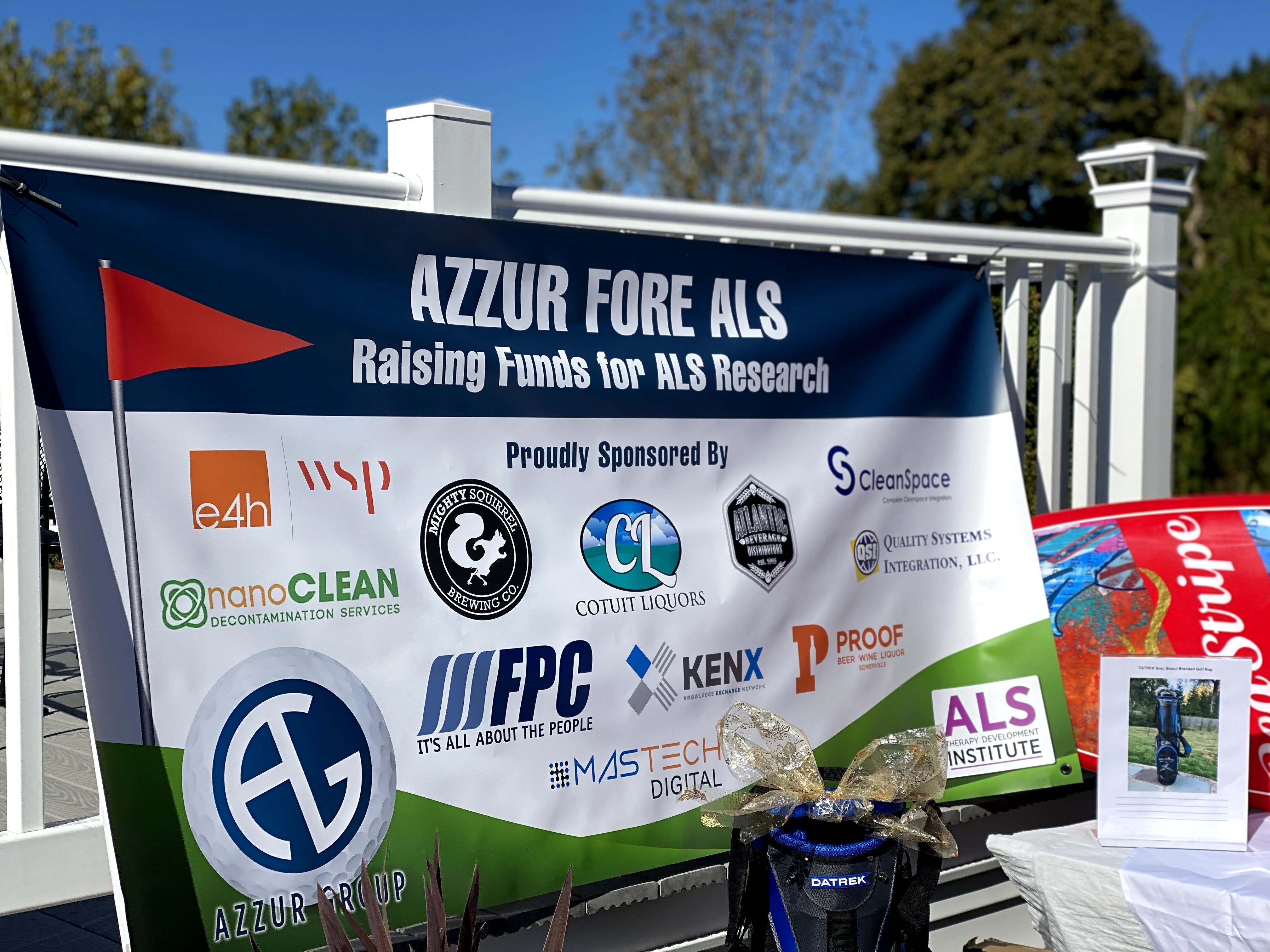 On October 9, 2020, Azzur Group and Azzur Cleanrooms on DemandTM Boston were proud sponsors of the first-ever Azzur Fore ALS charity golf tournament. In less than five weeks, Azzur, in conjunction with fellow sponsors and Ales for ALS, were able to raise more than $20,000 for ALS Therapy Development Institute (ALS TDI).

Following social distancing guidelines set forth by the Centers for Disease Control (CDC), 72 players masked up and stepped out at the Sandy Burr Country Club in Wayland, Massachusetts for an 18-hole scramble.

The players enjoyed a day of golf, local Ales for ALS brews, silent auctions, and raffle prizes, all generously provided by local organizations.

"When you find yourself on a course that brings you to where you are destined to be, you discover your purpose. This sense of direction motivates action and impact. It is the like-minded people you meet on this journey who carry you to bring the mission to fruition," said Andrea Sheehey, tournament director and Boston-area volunteer for Ales for ALS. Andrea spearheaded the tournament, which was held just weeks after the Waltham, MA-area Brewfest.

Ales for ALS is a fundraising campaign that was started by the Yakima Valley hop farming family in 2013. The program raises awareness for Amyotrophic lateral sclerosis (ALS), or Lou Gehrig's disease, through the craft brewing industry. Each year, their hop farm, Loftus Ranches, and YCH HOPS donate the hops to participating breweries.

"Azzur Fore ALS was a resounding success resulting in awareness and funds for ALS research and therapy development. We are happy to be able to contribute to ALS TDI's mission to developing new treatments for this terrible disease. Azzur appreciates all the participants and sponsors of the event, and we hope to continue to support the cause and increase our funding goals in the coming years," said Ravi Samavedam, President, Azzur Cleanrooms on DemandTM.

The ALS Therapy Development Institute (ALS TDI) is the world's foremost non-profit drug discovery lab focused solely on discovering and developing effective treatments for ALS. Led by drug development experts and people with ALS, the Cambridge, Massachusetts-based lab is funded by a global network of supporters unified to end ALS.

Azzur would like to thank the following sponsors for their support:
Breakfast Sponsor: Quebrada Baking Co.
Lunch Sponsor: nanoClean
Beverage Cart Sponsor: QSI
Closest to the Pin Sponsor: FPC
Longest Drive Sponsor: CleanSpace
Sign Sponsor: Citius
Hole Sponsors:
Atlantic Beverage
Cotuit Liquors
Proof
KENX
Master Digital
e4h/wsp
Mighty Squirrel Brewing Co.
Beverage Sponsors:
Mighty Squirrel Brewing Co.
Stoneface Brewing Co.
Lord Hobo Brewing Co.
Zero Gravity Brewing Co.
Onda Spirits
Cutwater Spirits

For more information about Ales for ALES and ALD TDI, visit https://a4a.als.net/.