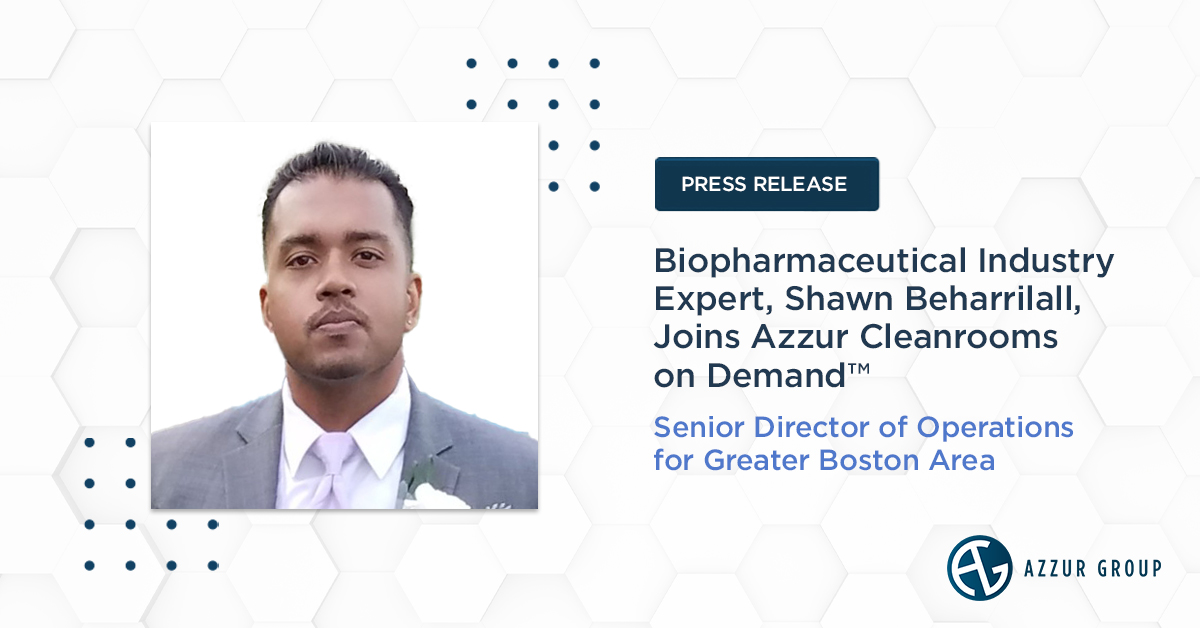 [March 8, 2023 - Waltham, Ma.] Azzur Group today announces the appointment of new senior leadership to support continued company growth in the greater Boston area. Shawn Beharrilall joins
Azzur Cleanrooms on Demand™
(COD) as Senior Director of Operations, supporting growth and development of COD facilities throughout Massachusetts. Shawn succeeds Joseph Sollecito, who led operations at COD Boston from October 2019 until his retirement in November 2022.
"I'm excited to be part of COD's goal to partner with early-phase manufacturers to accelerate their product to patients. I've been working for CDMOs my entire career and I've found it is absolutely essential to be able to compliantly pivot due to dynamic manufacturing processing (especially early phase)," said
Shawn Beharrilall
, Senior Director of Operations, Azzur Cleanrooms on Demand™ Boston. "However, this takes time and will have an impact on patients' quality of life, if not worse. COD has a unique platform that really circumvents the hurdles and delays traditional CDMOs can't avoid."
Shawn has more than 14 years in the
biopharmaceutical industry
with extensive knowledge of GMP, ISO, and FDA compliance and standards. He specializes in the manufacturing and quality control testing of small molecules, cell banks, and
cell and gene therapy
. Shawn graduated from the University of Windsor in Ontario, Canada with a Bachelor of Science honors degree in biology and biotechnology.
"We're pleased to welcome Shawn to Azzur Group," said
Dan Dernbach
, Senior Vice President of Global Operations, Azzur Cleanrooms on Demand™. "His track record of corporate services and process improvement will prove incredibly valuable as Azzur Group continues its expansion to meet the needs of our customers and our industry."
Originally founded in Waltham, Ma., in 2018, the Azzur Cleanrooms on Demand™ hybrid model includes on-demand cleanrooms and related services for materials management, asset management, and supply chain. Along with all the other service areas in the Azzur Group portfolio, COD enables companies to focus on groundbreaking science and early-phase cGMP manufacturing without the burden of facility ownership and maintenance.
For more information, visit
Azzur.com/cleanrooms
.